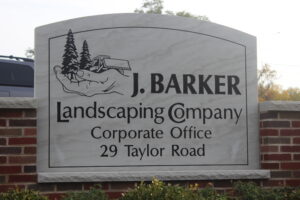 Our valued clients applaud J. Barker Landscaping Company!
I am so pleased with the landscaping that J. Barker Landscaping Company has done at my home. I am highly pleased and that is why I continue hiring your team for new projects. Sarah has been wonderful at implementing my ideas and your crews have been a pleasure to have on site and complete the jobs in an orderly fashion. My property has never looked better!
Words cannot express how pleased I am! The professionalism, the attention to detail and staff are excellent. The end result is amazing and way better than anticipated.
J. Barker Landscaping Company has been doing my landscape projects for at least 10 years. Always very professional and thorough in projects ranging from planting trees and shrubs through building stone patios and a fire pit. I highly recommend their excellent design and project execution.
I have been using J. Barker Landscaping Company for maintenance for years and will continue to do so. I have also worked with Jeffery and his team in the construction of outdoor living spaces including a kitchen and an in-ground pool patio. The crews deliver quality work, are professional and dependable.
Jeffery, Sarah and the landscaping crew are a dependable, talented and charismatic team. During the design process, we felt heard and respected and the results look wonderful. High quality service and installation make J. Barker Landscaping Co. our top recommendation to others with landscaping, patio, and hardscape needs!
Tim and I are very pleased with the exemplary stonework you created on our porch. Your staff are geniuses! Working with Nicki was a dream.
J. Barker Landscaping Company's work has always exceeded my expectations. I appreciate the team's professionalism and am impressed with their design concepts and finished product.