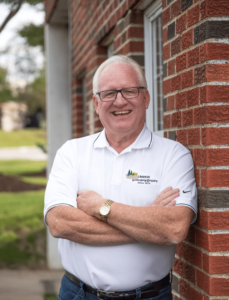 JEFFERY BARKER
Founder and President
Jeffery Barker founded J. Barker Landscaping Company in 1974 with nothing more than a Jeep Wrangler, a push lawnmower, and a lot of determination. He has grown a landscaping company that continues to thrive in service of year round residential and commercial projects. Jeffery sells and manages large residential projects and continues to schedule daily landscaping crews for maintenance and project work. J. Barker Landscaping Company is driven by Jeffery's vision and enthusiasm. When not directly involved in landscaping work, Jeffery enjoys boating and spending time with his family.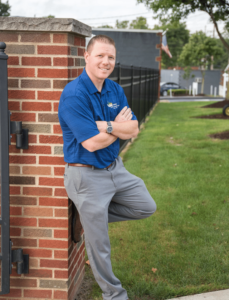 BRANDON BARKER
VP and General Manager
Brandon Barker joined the J. Barker Landscaping Company team full time in 2016 as an Account Manager. In 2022, he moved into the VP and General Manager role, assisting in both the operation and management of the commercial and residential areas of the business. As the company founder's son, Brandon spent his high school and college years learning all facets of the family business. He is a graduate of the University of Akron and a Board Member for the Ohio Landscape Association as well as the Advisory Board for Kurtz Bros, Inc. As in business, Brandon keeps himself busy all year round. He enjoys jet skiing in the summer and snowboarding in the winter.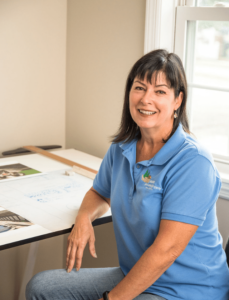 SARAH BISHOP
Residential Sales and Landscape Designer
Sarah Bishop is an award winning landscape designer who specializes in residential design sales and installation for our west side clientele. Her innovative style, attention to detail, and creativity inspire beautiful outdoor designs that offer clients years of enjoyment. Sarah is an experienced horticulturalist with a varied design pallet ranging from fine European style to woodland gardens. With a preference for interesting plant materials, unique containers, and a commitment to environmentally conscious practices, her designs ensure thriving landscapes that win her accolades from local media and delighted clientele.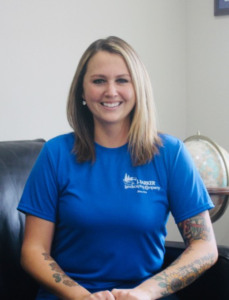 Ashlee Barringer
Office Manager/Administrator, CMCA, AMS
Ashlee Barringer brings over 11 years of experience as a property and office manager to her role at J. Barker Landscaping Company. She joined our team in 2018, took a short leave, and has now rejoined us in 2022. She spends her days overseeing all office operations and accounts receivable. When not making sure things run smoothly at J. Barker Landscaping headquarters and out in the field, Ashlee enjoys spending time with her husband and young son.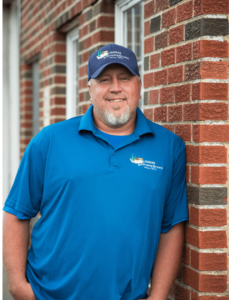 STEVE McELROY
Director of Operations
A 26 year employee of J. Barker Landscaping Company, Steve McElroy has had numerous roles over the years. Most recently he has moved into the Director of Operations position. He currently coordinates all dispatching, organizing, oversight, and logistics for our numerous landscaping crews. He is in charge of overseeing the management and maintenance of the six buildings on our company "campus." He can typically be found wrangling crews and managing oversight for our business. During his time off, Steve attends Monster hockey games and enjoys spending time with his family.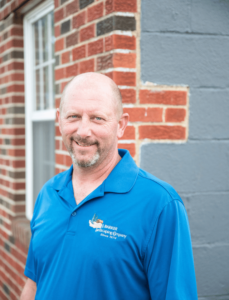 BOB UNGRADY
Senior Project Manager – Hardscape/Construction
Bob Ungrady spent time owning and managing his own landscaping company before joining J. Barker Landscaping Company over 15 years ago. He brings his wealth of experience his Senior Project Management position for all of our hardscape and construction projects. When he is off the clock, Bob enjoys hunting and fishing.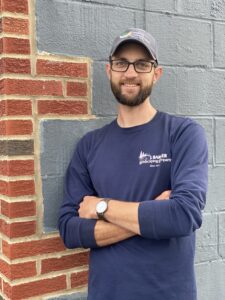 KYLE KENDZIERSKI
Landscape Maintenance Supervisor
Kyle joined our team in 2015 after running his own lawn maintenance company, which he started at age 16. In 2022, he was promoted to Landscape Maintenance Supervisor. He holds an Ohio Pesticide Applicators License and a certificate in Power Equipment technology. Kyle spends his spare time exploring the outdoors and is an avid racing fan.
Barker Landscaping Co. has been doing work for me for at least 10 years. Always very professional and thorough. From planting trees and shrubs through building stone patios and a fire pit. I highly recommend their excellent design and project execution.

R. Bailey