Navigating lake access and retaining natural elements can be a challenge for waterfront property owners. Many purchased their properties for the beautiful views and easy water access with the knowledge that erosion must be managed and water access navigated. 
A number of clients have inquired about retaining walls to help them with these goals as lakefront property residents. As always, J. Barker Landscaping Co. was up for the challenge with many years of landscape construction experience. We are proud of our retaining wall project designs and installations and are now proud to share these portfolio additions with our client network. 
A feat of engineering, a typical retaining wall is a somewhat rigid structure created to hold soil from two sides at different levels. These walls can be used to ensure that land stays stationary where it would likely collapse if left alone. Our lakefront retaining wall projects have been engineered and installed to also create easy access from a higher land level to a lower land level situated on a waterfront. 
Over the past two years, we have been working on a unique Avon Lake shoreline property. The owners were motivated to complete the large-scale project to make the most of their beautiful location. Their project included complicated aspects such as a steep hillside, a prior residence that needed to be demolished and then removed, and significant drainage installation. Our team was capable of working with them and turning their vision into a reality with a sound design that has been built to last. 
Retaining Wall Project Goals:
Contr

ol land erosion for a home situated on the top of a collapsing waterfront hill 

Plan and establish stable wall support and water drainage systems

Establish entrance to the water with safe access from a steep hill above

Install a waterfront pier and a boathouse for storage
Retaining Wall Project Process:
Completed demolition of existing and damaged hillside home to clear access space

Partnered with

Great Lakes and Ohio River Division of the Army Core of Engineers

and planned an effective wall support design and hillside drainage system

Excavated hillside 

Installed gravel, drain tiles, and drainage pipe

Installed footers and assemble three levels of interlocking Redi-Rock wall structures

Coordinated railing installation and path paving 

Advised construction of boathouse structure for storage

Designed and installed LED lighting along wall retaining wall to highlight staircase for safety
The retaining wall project is now fully installed and in use.
We built a beautiful, safe, and strong retaining wall that includes multiple sets of stairs with railings with access to the water, including a pier and watercraft storage for small boats, kayaks, paddleboards, and outdoor furniture.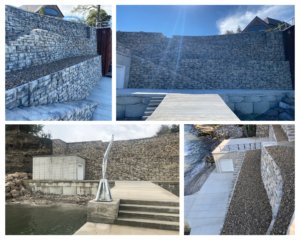 We are thrilled to share the project results!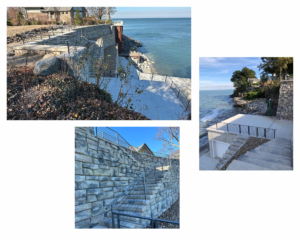 Would your landscape benefit from a similar design? We would be happy to consult with you about a retaining wall project.  
Contact us at [email protected] to discuss how we can stabilize and beautify your landscape. 
Find more of our inspired landscape projects on our gallery pages.