JBLC's fleet of vehicles and equipment makes many of our projects possible.
Whether the job calls for lifting pieces of concrete, transporting large amounts of topsoil and mulch, or creating an entirely new lawn for your landscape, our fleet is ready to do the work!
At this time, we have 22 JBLC company trucks and vehicles.

90% of these machines are no more than six years old.

Purchased new, they ensure our jobs are implemented effectively because little maintenance is required.

If something does break, we have an in-house fleet mechanic ready to step in and bring them back into working order. 
Our fleet includes 16 trailers, multiple excavators, skid-steers, and front-end loaders (full fleet pictured above and in the top right corner photo below.)
These heavy pieces of equipment help our crew move mountains of dirt, stone, and snow. We are able to dig out the base for new patios and other outdoor living spaces, as well as keep walkways and parking lots clear in the winter. Our trailers help us transport topsoil and mulch when installing new lawns and covering landscape beds.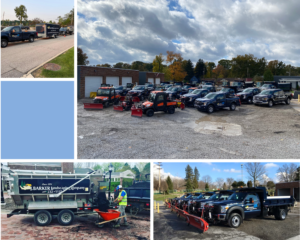 We love how our Terrain-Pro Trailer (bottom left corner photo above) makes all of our landscaping projects more efficient. The trailer holds large amounts of topsoil and mulch. There is a conveyor belt that comes out of the side of the trailer, allowing us to quickly fill our wheelbarrows and apply products to landscapes.
The large and mini-excavators (photos below) allow us to work in different size landscapes. The bigger machines help us construct retaining walls along the lakeshore.
For these projects, we need to dig down deep into the ground and also move large amounts of concrete blocks. Mini-excavators help us in smaller, residential spaces where we are able to move decorative stones and build attractive-looking drainage to help direct water flow to a safe location.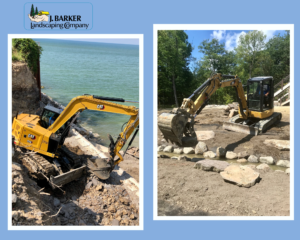 Though a lot of our work includes planning and hands on attention to your projects, we wouldn't be able to create larger-scale installations or complete our projects in a timely manner without our hard working fleet of vehicles and equipment.
We think they are a good looking crew and appreciate that they help us provide an array of impressive landscape and hardscape services for our customers. 
Learn more about our range of residential and commercial landscaping services. 
Check out our photo gallery and reach out to us with your inquiries. We would be happy to help inspire and implement a beautiful landscape for you to enjoy!