Ohio Landscape Association Visits J. Barker Landscaping Company Headquarters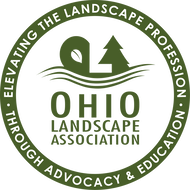 In September 2022, we hosted the Ohio Landscape Association's (OLA) Northeast Ohio Facility Tour!
JBLC welcomed 100 fellow OLA's members and green industry colleagues from across the state to tour our facility and meet our team. We had recently added a new sign and custom landscape to our entry which focused all attendees' attention on our property (see the photo above) and were proud to show it off as they all arrived.
Our Ohio landscaping associates had the opportunity to take a peek inside our facility operations and explore our six building campus in Bedford, OH. While they were here that evening, we shared what has made us successful over the past 48 years. They were interested to hear our particular take on the industry and learn about our residential and commercial landscaping procedures. Our team is a dedicated and close-knit group of individuals, and our founder, Jeff, has learned many lessons over his years in business, including how perseverance, detail oriented processes, and personalized attention have helped JBLC grow.
We closed the evening with a catered dinner to show our appreciation for the attendees that visited.
JBLC received many rave reviews and everyone enjoyed the wonderful experience!
Check it out.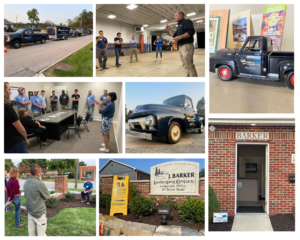 (photos from top left and clockwise) Our fleet on the street, Brandon Barker showing attendees our internal facility, a cute toy version of our old time pick up, our Barker office entrance, our new property sign and landscape design, Brian Dingess explaining his work leading landscape project implementation, Sarah Bishop explaining her design and sales process leadership in our office meeting room, the real life old time pick up truck that we love to show off around town