A Magnificent Entry: A Front Yard Landscaping Renovation
The owners came to JBLC for a reimagined front driveway and full front yard renovation project. The scope of the project would include changing the shape of the driveway, a reconstruction of the front entry landing followed by new plant material, lawn, lighting, and irrigation. 
Initially, they had a long, narrow driveway that ran down the left side of the property with a brick pathway connecting the driveway to the former front entrance. They envisioned a front circular driveway with full access to the front entrance, alleviating the need for the stone pathway. We all wanted to maintain the stately nature of the home and therefore created a plan that would include this goal. 
Before: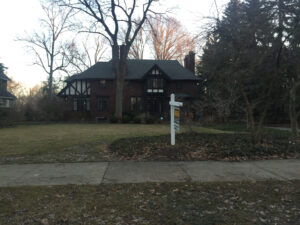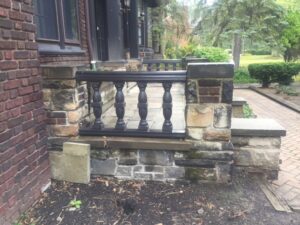 The project included removal of the front lawn and ground cover, repurposing of plant materials, and adding in new plants to match the aesthetic appeal of the 90 year old house.
We completed a full demolition of the preexisting hardscape, driveway, and landscaping.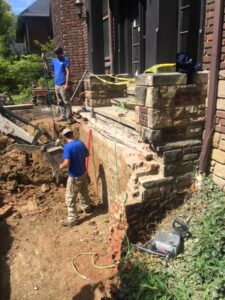 Next, we installed a new asphalt circular driveway, updated the sprinkler system, and added low voltage, LED landscape lighting fixtures throughout the property to enhance the plant material as well as the architecture of the home. Our stone masons constructed the hardscape utilizing both new and repurposed brick as well as sandstone from the prior hardscape to maintain the integrity and the original style of the home.
The homeowners were so impressed with the front step construction, that they requested that we construct two columns similar in style to be located at the street entrance and to help illuminate the driveway.  This final touch completes the updated look and elevates the stature of this magnificent project!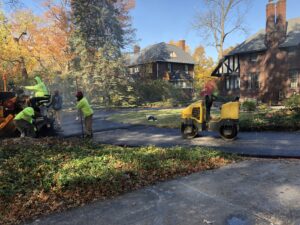 In Process: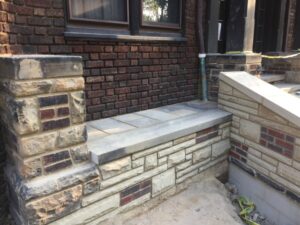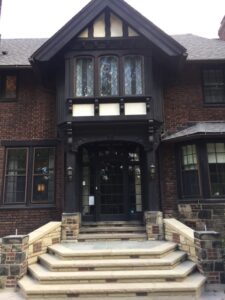 The finished project has completely changed the entry to the home. Neighbors and visitors continue to compliment the owners on a lovely update!
Finished Project: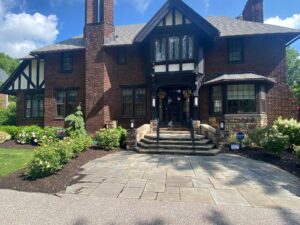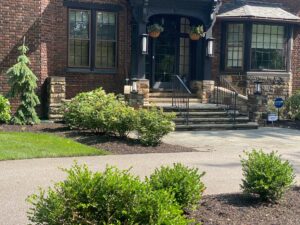 "Jeff, Sarah, and the entire hardworking team spent numerous hours and days working to help bring our dream entrance to life! J. Barker Landscaping Co. is a professional, dedicated, creative, and responsible business and I recommend working with them on any residential project. We really felt heard and they were there by our side working from start to finish. They are the best!"
Before: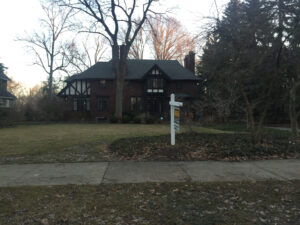 After: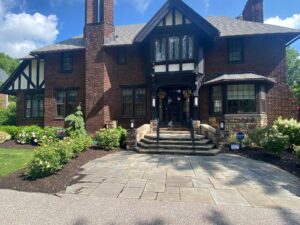 We take great pride in having helped reimagine and implement this residential project. 
Do you have a design vision you'd like to discuss with our residential landscape design experts?
We are available to help you make your vision a reality and also happy to advise what might work best for your property.
Contact us today to learn more and schedule a consultation!