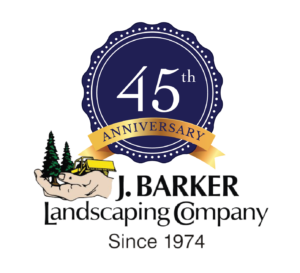 Interview: Reflections and Aspirations after 45 Years of Business Success!                    
Jeff and Brandon have much to celebrate and many dreams for the future of J. Barker Landscaping Company.
How will the company celebrate its 45th anniversary?
Jeff: We have created a special logo that commemorates the anniversary and will share it with our clients and community. We hope to have a special party this fall with our entire company to celebrate the anniversary. Really, I'm simply content, very blessed and humbled as I look back on my accomplishment.  I consider 45 years a long time in the landscaping industry!
Brandon: Due to working in the business on and off for over half my life, I've watched this landscaping business grow and I've witnessed my dad's devotion to his work. His success has greatly impressed me. I share his pride in our 45 years in business.
What changes have you seen in the landscaping industry over your past 45 years in business?
Jeff: The industry has changed so much when it comes to product offerings. Now there is such a variety of different plant material, fertilizers, ice melt, concrete pavers. etc., compared to when I started. These items have improved in type and availability and we can offer so much more to our customers. The trends in landscape design have also changed. Brick pavers used to be the "in thing" for many years. Now natural stone such as bluestone and brownstone are very popular.
Also, landscape equipment capabilities are cutting edge. We can use mini-excavators to remove foundation and tree augers to dig holes for tree plantings. Landscape beds which we used to edge by hand, we can now use machines to create. Our crew doesn't tire as easily and there is more excitement around using the new machinery.
Everything is done on computers these days, we don't handwrite or type anything. These changes make our office work easier and free up time. We can also communicate more easily with our crew members when out on jobs. We used to have radios in each truck to communicate. The use of cell phones and texting has made it much easier to communicate.
Brandon: I agree that technological changes have helped the business grow and allowed us to add new services to our business model. We are now using software programs to create quotes and estimates, along with landscape designs.
Jeff: In 2007, we started our demolition company and this has created other opportunities that tie into landscaping. We are able to recycle high-quality building materials like limestone, sandstone, and other construction items that we remove from demolition sites and are able to incorporate them into landscape projects.
How has Brandon's transition to full-time account manager gone for the two of you?
Jeff: Brandon's primary goal was to relieve my level of pressure. He is succeeding. He has a lot of great ideas for business growth. This has allowed me to get back out into the field.
I'm an anomaly. Most business owners at my stage prefer to step back from the day to day operations.
I look at it differently. I now have the time and energy to get back to why I started this business, my passion for landscape design and horticulture. I look forward to getting my hands dirty and spending time as a project manager.
I am now able to do this more and more because I trust how Brandon handles things.
Brandon: Stepping into my account manager role has been an eye-opening experience.
From the outside, I didn't know what it was like day to day and how sometimes the unexpected issues get in the way of larger plans. It is easy to be critical and make suggestions when you don't see how difficult it can be to manage all the different aspects of the business.
What are the areas of business you'd like to see grow in the future?
Brandon: I am focused on growing our commercial business which includes both landscaping services and snow removal for corporate clients. Also, I think it is important that we continue to grow our residential design/build end of the business. We do such a great job executing and completing large residential projects. I see a lot of opportunities to continue expanding our excellent landscape design and implementation tradition. We have a highly-skilled project management team with the ability to create wonderful landscape and hardscape projects.
Finally, we are looking to grow our dumpster services area of the business. I see a lot of potential with both commercial and residential clients who need this service, and we are placing more focus on this now.
Jeff: Ditto, we are on the same page for our business vision.
What are the biggest lessons you've learned over your years in business?
Jeff: I've learned to keep an open mind. I now try to listen more than I talk and understand that there are often other ways of doing things. I'm trying to give new ideas a shot.
Brandon: I've also learned to keep an open mind. You must have strong lines of communication, not only with customers but with employees as well.
Our team may sometimes disagree on project implementation, but we remain open to each other's opinions. We all understand that the bottom line is project completion and customer satisfaction. Other trains of thought must be considered and we will work together to get the job done.
What is keeping you busy these days, Jeff?
Jeff: I find much enjoyment in getting back out in the field at work. We are very busy right now, with numerous projects keeping me occupied.  I have a great passion for nature both at work and at home. In my personal life, I spend time working in my own yard, boating, fishing, and traveling with my family. Our life is family-centered and we really try to not let work issues affect our relationship.
So far, it is working!